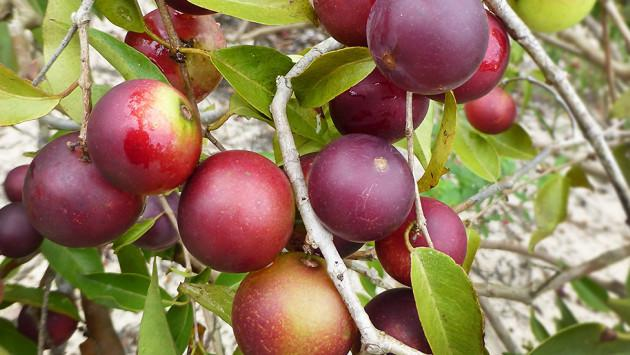 Camu Camu Benefits and more
With the enormous amounts of harmful additives being added to the food, your body could be deprived of the essential vitamins, minerals and other nutrients it needs to keep all the body organs healthy and the processes functioning normally.
You'll find a huge number of supplements crowded on supermarket shelves; and choosing the right one from among them can be a difficult task. One supplement with numerous benefits is Camu camu.
Though the name may sound amusing, even silly, the herb is anything but silly. With its remarkable health benefits, it is a favorite among herbalists.
A brief history- A low-growing shrub found in the rainforests of Brazil and Peru, Camu camu is a rich souce of natural vitamin C. Infact, the vitamin C content of Camu camu is believed to be more than any other on the planet. In addition, it's also has beta carotene, calcium, potassium, niacin, iron, phosphorous, thiamin, leucine, valine, serine and protein.
The powerful amino acids in Camu camu are thought to offer amazing therapeutic effects. Over the years, this herb has been used as an astringent, antioxidant, anti-inflammatory and emollient.
Benefits of Camu camu
Camu camu may offer a number of health benefits associated with its use. For starters, Camu camu may fight oxidative stress and inflammation, which is prevalent through a number of studies.
Camu camu also demonstrates potential to stabilize blood sugar levels. Camu camu extracts are also thought to support the immune system, balance the mood and promote healthy functioning of the nervous system.
What's more, Camu camu is extremely rich in antioxidants which could support healthy immune system function and is said to have antimicobial benefits according to research. Some practitioners also believe that taking Camu camu supplements may improve digestion and promote gut health.
Points to remember- before getting started with using Camu camu as a supplement, there are a few points you should keep in mind.
Stick to the ideal dosage. Never, ever think of increasing your dosage without the advice of your doc, even if you've missed a dose.
If you are pregnant or breastfeeding, consider talking to your GP before starting with Camu camu supplements.
Elderly people, immunocompromised people and children too, should avoid taking Camu camu and other herbal supplements without medical consent.
If you have recently undergone a major surgery or are on medications, check for side-effects or drug interactions associated with its use.
If you are undergoing chemotherapy, avoid taking Camu camu as it is known to interfere with its functioning.