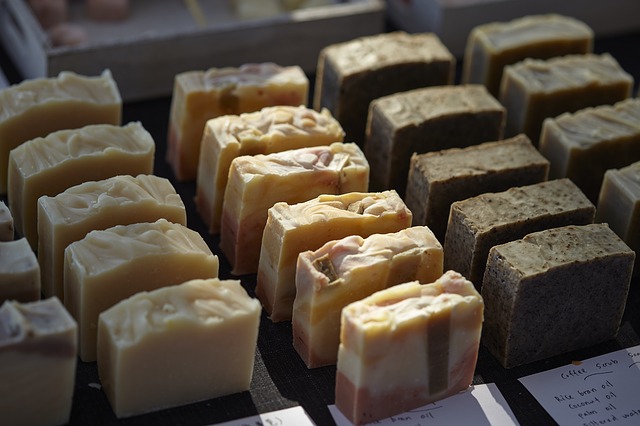 A thousand thoughts might race through your mind when you are browsing through the supermarket shelves to pick up a few bars of soap. Safe for sensitive skin?  Moisturizer-rich? Looks Nice?  Smells Good? Organic?
Despite the many options of soap available today,  bars are still a very popular choice because of their ease of use and affordability, not to mention the endless variety of soap bars. The benefits like many soaps are endless,  soap helps cleanse the largest organ of the body-the skin, and gently removes all the dirt, grime and sweat that may have accumulated in the pores. Certain formulas gently moisturizes the skin, making it soft and supple. Many soaps also pack in antibacterial agents which may destroy harmful bacteria and viruses which may help keep both you and your skin free of disease.
While you can easily pick up one from your nearby store, why not get creative and make your own soap? It's a great hobby that many have turned into a full-time career and could be cheaper than many store-bought variety, and the best part is you'll actually enjoy making it! We've made a simple list of some of the best soap-making supplies to help you get started.
List of Organic Soap-Making Supplies
For your first soap making project, it's preferable to stick to something simple. Here are a few things you might need.
• Exotic butters– To make an effective organic soap, you'll need the power of natural oils and butters like ucuuba butter, soy butter, coconut oil, sweet almond butter, mango butter, avocado butter, shea butter, jojoba oil, cocoa butter etc.
• Exfoliants– To help brush away dead skin cells and give the skin an extra healthy boost., you may need to add some natural exfoliating agents like jojoba beads, pumice and luffa to your homemade soap.
• Extracts– Some botanical extracts like cucumber peel extract, gingko biloba extract, green tea, orange, watermelon, mango, and strawberry fruit extracts can also be used in your soaps
• Floral waters– Floral waters can be added to add fragrance to the soap. Some popular floral waters include chamomile, rose, lavender and neroli.
• Other essentials– When you look up soap making recipes on the internet, you may find a good number of these in the ingredient list.-vitamin E, zinc oxide, citric acid, camphor powder, stearic acid, witch hazel, soy lecithin, talc, sodium bicarbonate etc.
Whenever you decide to make soap make sure you are following a reputable source and also follow any safety guidelines before attempting to make any soap. We hope this list will give you some ideas on what to use in your soap making recipe.